By Candice Nguyen, Michael Bott, Jeremy Carroll, Michael Horn, Roselyn Romero and Grace Galletti
The 1982 scene is still imprinted in Steven Chavez's mind: His mom sitting at the kitchen table of their Santa Clara home, an ashtray brimming with cigarette butts in front of her, holding a letter that spelled out her son's likely death sentence.
Chavez was heading to West Point after graduating from high school at the top of his class, he said, but that was before a blood test revealed HIV in the teen's system.
"They told me I had less than six months to live," Chavez said. "To get my things in order."
Chavez's story began just a year before, in 1981, as a South Bay teenager. The altar boy and straight-A student had his sights set on the White House.
That is, he said, until he met the new priest in town.
"When I met Fr. Bettencourt, I thought, 'Wow, he's a nice guy. He's handsome. He looked really young, closer to my age,'" Chavez said.
The encounter, as Chavez recounts in his lawsuit, would forever change the course of his life.
"He invited me to his house to watch movies, so I rode my bike over to his house," Chavez said.
"He had a big pile of cocaine around the table and some marijuana and he started feeding me drinks. I got really high and the next thing I know I passed out. When I woke up, he was on top of me and I asked him to quit, but he didn't. When I went home, I bled for three days."
His terrified parents soon pried loose the dark secret Chavez had kept for months about Father Thomas Bettencourt, the priest Chavez says drugged and raped him, and, as he later learned, infected him with HIV – all before he turned 17. Four decades later, Chavez is still alive. His former secret now the foundation of a recent lawsuit brought against the Archdiocese of San Francisco and the Diocese of San Jose.
When asked how he knew it was Fr. Bettencourt that gave him HIV, Chavez said he was a virgin before being sexually assaulted by the priest.
"It makes you feel like you're just a piece of s**t, a piece of meat that's not good anymore, like you're spoiled," Chavez said.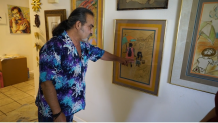 Chavez sued the Catholic church last year, joining hundreds of Northern California clergy abuse plaintiffs empowered by a 2019 law permitting Californians to file new lawsuits based on older childhood sexual abuse claims otherwise barred by the statute of limitations.
"Steven getting his story out there will hopefully help other people that were also abused by Father Bettencourt come forward," said Matthew Haynie, Chavez's attorney.
Church records show Bettencourt moved on to another parish in 1982, before dying in 1990. It wasn't until then that Chavez said he revealed the priest's name to his father, who filed a report with the Diocese of San Jose. The accusation, however, was quickly dismissed by church officials, according to the lawsuit.
Bettencourt died of AIDS, according to a small Catholic college in Kansas, which says the priest left them more than a quarter-million dollars from his estate. Chavez, meanwhile, survives on disability payments that cover his life-long medical bills.
Because of the ongoing lawsuit, the Diocese of San Jose said it couldn't respond to the accusations, or whether church officials knew at the time the priest may have had HIV or AIDS.
But church records show Chavez likely wasn't the only person to accuse Bettencourt of sexually abusing them. An internal list of priests accused of child sex abuse released by the Diocese of San Jose a few years back details an apparently separate accusation against the priest from 1982, a year after Chavez alleges he was victimized.
An NBC Bay Area review of recent lawsuits filed against Northern California Catholic dioceses also turned up another recent lawsuit accusing Bettencourt of sexual abuse in the late 1970s, when the priest was employed by the Archdiocese of San Francisco, before the Diocese of San Jose split off in 1981. The attorney handling that case never responded to inquiries from NBC Bay Area.
Haynie said lawsuits like his client's will reveal new depths to the clergy abuse scandal, especially in places where bishops have remained quiet, such as San Francisco.
"[The Catholic church] is still not 100% transparent, as given by the fact that the Archdiocese of San Francisco still, to this day, hasn't released a list," Haynie said.
Haynie's talking about the internal church lists detailing priests who have been accused of abusing children. In response to a 2018 grand jury report out of Pennsylvania that found more than 300 priests in the state had been accused of child sex abuse, and that church officials helped cover up their crimes, bishops across the country took a major step towards transparency, many of them making those lists public for the first time.
Every California bishop has released such a list, except for Archbishop Salvatore Cordileone of San Francisco.
Without San Francisco's list, the public can't tell if the Archdiocese knew of complaints against Fr. Bettencourt that came before Chavez says he was sexually assaulted by the priest.
"It's our belief that the church knew or should have known that Fr. Bettencourt was an abuser of minors like Steven," Haynie said.
A spokesperson sent the Investigative Unit a statement saying they'll address sex abuse allegations through the "appropriate legal channels." Another spokesperson for the Archdiocese said they had no plans to release a list because the names of San Francisco's accused priests are "already in the public domain." She declined to answer follow-up questions about what exactly that means.
More than 40 years after Chavez says he was sexually assaulted, he's hoping to get a measure of justice for the first time. He never thought he'd live long enough to see it.
"I'm 58 and just celebrated my birthday," Chavez said. "I never thought I'd see gray hair."
---
By Michael Bott, Candice Nguyen, Jeremy Carroll, Michael Horn, Alex Bozovic, Grace Galletti and Roselyn Romero
Northern California's most powerful bishop steadfastly refuses to release an internal list of priests accused of sexually abusing children, even as hundreds of new lawsuits hitting Catholic dioceses across the state suggest new depths to the church's sex abuse scandal.
San Francisco Archbishop Salvatore Cordileone remains the lone bishop in California declining to take the significant step towards transparency, and pressure is mounting for him to do so.
"When you don't publish a list and tell people the truth proactively, it's a lie," said Dan McNevin, a clergy sex abuse survivor and local leader for the Survivors Network of those Abused by Priests (SNAP). "And this is a religious institution that talks about morality."
From San Diego to Santa Rosa, California's 11 other bishops have posted such lists online, most of them following a 2018 Pennsylvania grand jury report that found more than 300 priests across the state had sexually abused children and church leaders helped cover up their crimes.
Survivors, advocates, and attorneys have been pressuring Cordileone to release San Francisco's list for years, but so far, he's not budging.
"[We want] to call out and require the Archbishop of San Francisco, Archbishop Cordileone, to reveal the truth," said prominent clergy abuse plaintiff's attorney Jeff Anderson at a protest in front of the Archdiocese last year. "To reveal and disclose all the names of the offenders that have worked in the Archdiocese of San Francisco and have violated, raped, molested or abused children. Archbishop Cordileone, name your predators. It's time."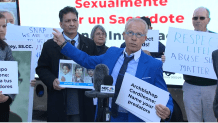 The Archbishop declined multiple interview requests to discuss the list, along with recent child abuse allegations against San Francisco priests. In an emailed statement, a spokesperson for the Archdiocese said the names of their accused priests are "already in the public domain," but declined to answer follow-up questions about what exactly that means.
The calls for transparency come at a time when Catholic dioceses across the state are facing more than 700 new lawsuits made possible by a 2019 state law opening a three-year "lookback window" for potential victims to file civil lawsuits based on older childhood sex abuse claims. A June NBC Bay Area investigation found more than 40 Northern California priests or church employees are being accused of sexually assaulting children for the first time, including at least four priests who continue to work in the Bay Area. Those priests refuted the accusations against them directly or through attorneys.
A spokesperson for the San Francisco Archdiocese said they could not comment on any active litigation.
In the absence of San Francisco's list, McNevin and SNAP have undertaken the task of creating their own, pulling names and information from lawsuits, criminal court filings, media reports and speaking with accusers.
SNAP's list for San Francisco currently sits at over 300 names, the most of any Northern California diocese. The list grows longer as new lawsuits are filed.
"It's nice to be able to discover a connection that might help somebody," McNevin said. "The tough part is talking to survivors who are suffering."
McNevin's lists don't stop with San Francisco. Although every other diocese in California has released their own list, McNevin says his lists far surpass the numbers from the bishops' lists.
"We've gone through all these lists, and we have not found one that is complete," McNevin said. "It's a white-wash process."
In all, McNevin's lists for Northern California dioceses, which span from Fresno to the Oregon border, contain more than 600 names. Back in 2002, McNevin said there were fewer than 100.
On Thursday, SNAP plans on publishing a letter to Archbishop Cordileone demanding he publish a list of accused San Francisco priests. They also intend to make their own San Francisco list public.
The links below contain the published clergy abuse lists for the 11 other Catholic dioceses in San Francisco.
---
By Roselyn Romero
One week into the Russian invasion of Ukraine, Cal Poly's Russian Student Association gave students the opportunity on Thursday to share their reactions to the war and how they or their families are being affected.
About a dozen students gathered on March 3 for the hybrid discussion, which was open to all students, regardless of ethnicity or whether they were personally impacted by the conflict.
Russian Student Association President Victoria Tsinker opened the event with a brief summary of the history of tensions leading up to the Russia-Ukraine war and facilitated the subsequent conversation.
During the discussion, Tsinker talked about her grandmother, who still lives in the Ukrainian capital city, Kyiv. Since the war broke out, Tsinker said she has felt worried for her grandmother and her health.
"I had to take a two-day break from the news because I was getting so overwhelmed," Tsinker said.
Other attendees took the opportunity to open up about their worries and fears. One of those students was environmental management and protection senior Anya Poplavska, who said she was born in Kyiv. Two of her uncles and her grandparents live there, with one of her uncles stepping up to serve as a leader of a civilian army group in the war.
The first-generation Ukrainian student said she and her parents call their family members in Kyiv every day through an app called Viber to make sure they are safe.
"It's been really hard on our family," Poplavska said. "When we call them, they can hear air raids and explosions in the distance."
On the second day of the incursion, the Ukrainian government declared martial law and announced men between the ages of 18 and 60 were prohibited from leaving the country. This order explains why Poplavska's family cannot leave Ukraine easily.
To raise awareness of the conflict in Ukraine, Poplavska and her father created Ukraine Aid Information & Resources, a Facebook group in which members can share fundraisers, resources and updates throughout the war. Poplavska said she also hopes to organize a demonstration or fundraiser at Cal Poly to keep students and community members informed.
"I want to create a safe space for people who want to talk about their feelings or experiences because it's a scary time for many students," Poplavska said.
Another student at the discussion was biochemistry freshman Nika Bondar, who was born and raised in Kyiv until the seventh grade. Bondar, her parents and her 12-year-old brother now live in Sunnyvale, California, while the rest of her family remains in Ukraine.
"I've always struggled with feelings of survivor's guilt, being saved from the war by my privilege of living in the United States and continuing my studies in biochemistry while my family is in the middle of it," Bondar said.
Bondar said she thinks American media outlets tend to focus on Ukrainians' fears and the destruction of Ukrainian cities. However, she wants people in the U.S. to direct their attention toward the strength of Ukrainians.
"Fear is not the primary attitude people have in Ukraine because this level of resilience is something special to our country," Bondar said. "Because we have such a long history with Russia, Ukrainians are ready to defend what is theirs at any cost, including their lives and the lives of the people they love."
What's happening in Ukraine
The tensions leading up to the Russian incursion of Ukraine date back to the breakup of the Soviet Union. During the Soviet era, Crimea — located along the southern coast of Ukraine and the northern coast of the Black Sea — belonged to Ukraine. The country retained Crimea following the collapse of the Soviet Union in December 1991.
In February and March 2014, the Russian government invaded and annexed Crimea during the Russo-Ukrainian War. This led to Ukraine and many other countries imposing sanctions against Russia.
On Feb. 21, Russian President Vladimir Putin signed a decree recognizing Donetsk and Luhansk, two Ukrainian breakaway regions, as independent states. On the same day, Putin ordered troops to be deployed into both territories.
Three days later, Putin announced the launch of a "special military operation" in Ukraine as Russian forces invaded Ukraine by land, air and sea. In response, Ukrainian President Volodymyr Zelenskyy announced he would end all diplomatic ties with Moscow.
As of Thursday evening, one million people have fled their homes in Ukraine since the war began. Approximately half of all Ukrainian refugees are in Poland, with many others seeking relief in Hungary, Moldova, Romania, Slovakia and other European countries, according to the U.N. High Commissioner for Refugees.
In response to the mass exodus of Ukrainians, the Biden administration is allowing some of them to temporarily stay in the U.S. This relief, which would shield refugees from deportation for a year and a half, would benefit an estimated 30,000 Ukrainians, according to a news release from the U.S. Department of Homeland Security.
"Russia's premeditated and unprovoked attack on Ukraine has resulted in an ongoing war, senseless violence, and Ukrainians forced to seek refuge in other countries," DHS Secretary Alejandro Mayorkas stated in the release.
---
By ROSELYN ROMERO
SAN LUIS OBISPO, Calif. (AP) — As the delta variant of the coronavirus sweeps across the United States, a growing number of colleges and universities are requiring proof of COVID-19 vaccination for students to attend in-person classes. But the new mandate has opened the door for those opposed to getting the vaccine to cheat the system, according to interviews with students, education and law enforcement officials.
Across the internet, a cottage industry has sprung up to accommodate people who say they won't get vaccinated for either personal or religious reasons.
An Instagram account with the username "vaccinationcards" sells laminated COVID-19 vaccination cards for $25 each. A user on the encrypted messaging app, Telegram, offers "COVID-19 Vaccine Cards Certificates," for as much as $200 apiece.
An increasing number of inquiries to these sites and similar ones appear to be from those who are trying to get fake vaccination cards for college.
A Reddit user commented on a thread about falsifying COVID-19 vaccination cards, saying, in part, "I need one, too, for college. I refuse to be a guinea pig."
According to a tally by The Chronicle of Higher Education, at least 675 colleges and universities now require proof of COVID-19 inoculations. The process to confirm vaccination at many schools can be as simple as uploading a picture of the vaccine card to the student's portal.
In Nashville, Vanderbilt University places a hold on a student's course registration until their vaccine record has been verified unless they have an approved medical accommodation or religious exemption.
The University of Michigan says it has checks in place to confirm employee and student vaccinations. A spokesman told The Associated Press the school has not encountered any problems so far with students forging their COVID-19 vaccination record cards.
But Benjamin Mason Meier, a global health policy professor at the University of North Carolina at Chapel Hill, questions how institutions can verify those records.
"The United States, unlike most countries which have electronic systems in place, is basing its vaccination on a flimsy paper card," he said. "There need to be policies in place for accountability to make sure that every student is operating in the collective interest of the entire campus.″
In a statement to AP, UNC said the institution conducts periodic verification of documents and that lying about vaccination status or falsifying documents is a violation of the university's standards and may result in disciplinary action. The school said it had not found any instances of a student uploading a fake vaccine card.
But other university staff and faculty have expressed their concern. Rebecca Williams, a research associate at UNC's Lineberger Comprehensive Cancer Center and Center for Health Promotion and Disease Prevention, said while she is concerned by these claims, she isn't surprised.
"This is why I think the development of a reliable national digital vaccine passport app is very important for the sake of all the organizations and businesses that want to require proof of vaccination for employees, students, or business patrons," Williams said.
The AP spoke with students across the country who did not want to be identified but said they were aware of attempts to obtain fake cards.
Some school officials acknowledge it's impossible to have a foolproof system.
"As with anything that potentially requires a certification, there is the possibility for an individual to falsify documentation," said Michael Uhlenkamp, a spokesman for the chancellor's office at California State University. The school system, the largest in the nation, oversees about 486,000 students on 23 campuses.
In March, the concern over fake COVID-19 vaccination cards prompted the FBI to issue a joint statement with the U.S. Department of Health and Human Services urging people not to buy, create or sell fabricated vaccine cards. Unauthorized use of the seal of a government agency such as HHS or the Centers for Disease Control and Prevention is a federal crime.
In April, a bipartisan coalition of 47 state attorneys general sent a letter to the CEOs of Twitter, Shopify and eBay to take down ads or links selling the bogus cards.
Many of the sites have blacklisted keywords related to fake cards, but places to buy the documents are still popping up on messaging apps, chat forums and the dark web.
Sellers on websites such as Counterfeit Center, Jimmy Black Market, and Buy Express Documents list COVID-19 vaccine cards, certificates and passports for sale, some costing €400 Euros or about $473.49. An advertisement on the website Buy Real Fake Passport promises fake vaccination cards by the thousands.
"It is hiding under our noses. If you want it, you can find it out," said Saoud Khalifah, founder and CEO of scam-detecting software Fakespot. "If we are seeing signs where things like Lollapalooza and other festivals are getting fake cards to gain entrance, the trend is just going to continue into these universities."
In July, the U.S. Department of Justice announced its first federal criminal fraud prosecution involving a fake COVID-19 immunization and vaccination card scheme. Juli A. Mazi, 41, a naturopathic physician in Napa, California, was arrested and charged with one count of wire fraud and one count of false statements related to health care matters.
Court documents allege she sold fake vaccination cards to customers that appeared to show that they had received Moderna vaccines. In some cases, the documents show Mazi herself filled out the cards, writing her own name, and purported Moderna "lot numbers" for a vaccine she had not in fact administered. For other customers, she provided blank CDC COVID-19 vaccination record cards and told each customer to write that she had administered a Moderna vaccine with a specified lot number.
Requiring vaccinations to attend class at colleges and universities has become a contentious political issue in some states. Public colleges in at least 13 states including Ohio, Utah, Tennessee and Florida cannot legally require COVID-19 vaccinations due to state legislation, but private institutions in those same states can.
Some college students have taken to social media platforms like Twitter and TikTok to voice their outrage over other students possessing fraudulent vaccine cards.
Maliha Reza, an electrical engineering student at Pennsylvania State University, said it is mind-boggling that students would pay for fake vaccination cards when they could get the COVID-19 vaccine at no cost.
"I'm angry about that, like there is more anger than I could describe right now," Reza said. "It's dumb considering the vaccine is free and it is accessible across the country."
---
By Roselyn Romero and Stephanie Zappelli
Cal Poly psychology and child development professor Jason Williams was sentenced to five years of probation and fined $221 for using his cell phone to take photos up a colleague's skirt in May 2018.
Court documents show officials have the right to search through the defendant's electronic devices and his residence. He was also served a protective order mandating that he cannot be within 50 yards of Cal Poly lecturer Kendra Williams. Jason and Kendra are not related.
The defendant pleaded no contest to the misdemeanor charge, according to court documents.
The sentencing was postponed four times since the complaint against Jason was filed. Kendra gave an impact statement in court Monday morning, saying the current Title IX policies and procedures are "not enough."
When Kendra returned as a lecturer the following academic year after the incident, she was reportedly told by Cal Poly not to speak about the incident.
During times when she would need to appear in court for multiple days throughout the quarter or when she would feel triggered during lectures about sexual relationships, she said she would have to tell her students it was "a personal matter."
"[Cal Poly was] using Title IX to limit my speech and save face," Kendra Williams said during her impact statement.
The licensed marriage and family therapist also addressed President Jeffrey Armstrong in her impact statement about the alleged mishandling of her investigation, which she said limited the charges the San Luis Obispo County District Attorney could bring against the perpetrator.
"Cal Poly is aware of Jason Williams' plea agreement reached today," University Spokesperson Matt Lazier wrote in an email to Mustang News. "The university issued a notice of discipline to Mr. Williams on May 8 of this year. He is currently suspended pending outcome of the disciplinary process, and we have no additional details to provide at this time."
Lazier declined to answer whether or not Williams is receiving pay while on suspension. He also did not provide any additional information about the disciplinary process when asked.
According to Transparent California databases, Jason made more than $85,000 in the 2018 academic year. Data for the 2019 academic year is not yet included in the database.
Kendra said she hopes the defendant loses his position as a tenured Cal Poly professor.
Days before her appearance in court Monday, Kendra said she invited Armstrong to the sentencing via email. Instead, he sent a representative on his behalf.
Kendra said her husband, two children, friends and department staff supported her throughout the course of the Title IX investigation.
The incident
The incident reportedly occurred around 10 a.m. May 2, 2018.
Kendra said Jason stood behind her in the department mailroom and initiated small talk with her.
She had her back to him as she checked her mail, when she said she felt something touch the inside of her right leg.
Upon looking down, Kendra said she saw Jason pointing his cell phone up her skirt and taking photos of her body with the flash on.
She said she confronted her colleague after seeing him upskirting her.
"You didn't expect to have a woman, who you thought of as only an object, turn back into a woman and challenge you," Kendra said to Jason in court.
She said this incident was not his first attempt, nor was she his only victim. The names of other potential victims that Kendra referred to are unknown.
Kendra said the defendant pretended to tie his shoes at the time of his prior attempt.
After the sexual harassment was reported, Kendra was placed on medical leave and Jason was booked into San Luis Obispo County Jail, according to an article from The Tribune. He was released from custody that same day, according to the article.
Kendra said she experienced symptoms of acute stress disorder for weeks following the incident, including feeling startled when her husband would enter the same room as her or being triggered when she would lecture about topics relating to sexual relationships.
"I did have times where I would have to skip through a couple of slides in a lecture and just take some time to breathe to get back in a position where I could keep teaching," Kendra said in an interview with Mustang News.
Advocating for survivors of sexual assault and harassment
Kendra said she respects sexual assault survivors who choose not to be outspoken about their experiences, but is sharing her story to incite change and inspire other survivors to come forward.
"By not putting my voice and my story and my face out there, that allows [Jason] to stay more protected instead of protecting me," Kendra said.
The total number of sexual assaults at Cal Poly jumped by 50 percent between the years 2015 and 2017, according to previous Mustang News coverage.
According to the Rape, Abuse & Incest National Network (RAINN), only 23 percent of sexual assaults are reported to the police.
Mustang News reached out to the current Title IX Coordinator for Cal Poly. She was not available for comment.
---